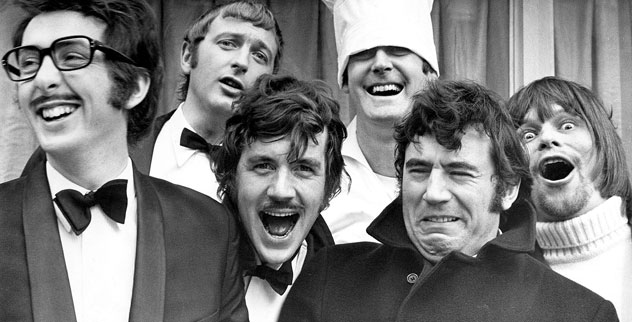 Some of the best comedy around has been British Comedy. The classic one liners, the funny stories and the bizarre slapstick. This list will not just be my opinion, although a few personal favorites will pop up. Starting from the very early moments of comedy, to some newer moments, here are the top 10 British comedy series.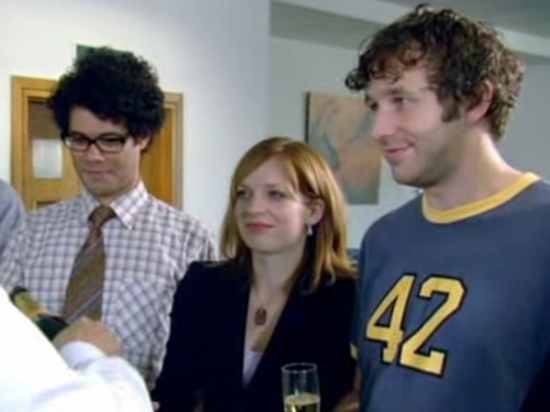 I think I will start this list with one of the most recent series. A personal favorite of mine, the I.T Crowd follows the lives of Maurice Moss, Roy Trenneman and Jen Barber in their I.T department at Reynholm Industries. Moss and Roy are "Standard Nerds", they are pretty much ignored by the rest of the company and have even been overlooked by the toilet cleaners. Jen Barber on the other hand is a socially outgoing young woman who becomes the head of the I.T Department after claiming to have vast knowledge about I.T. She is soon found out by Roy and Moss to have no knowledge at all. After Roy is nearly killed by a woman with a shoe, Jen takes the role as the relationship manager, in an attempt to smooth things over with the other Reynholm Industries employees. The party seems to go off without a hitch and the employees find the I.T crowd funny! Then Roy tells Moss to tell a story about the pair visiting Amsterdam. (I'll let you find out what his story is about) The employees are completely shocked by this and start their resentful hate against the I.T crowd once more. Having won a BAFTA and numerous awards, and staging the best musical ever created where the audience applauded. Four series have been commissioned and a fifth one is in the works.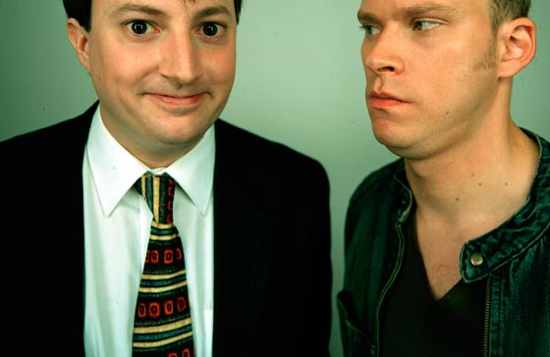 One of the first series that I know to have adopted the Point of View camera style. The series follows Mark Corrigan and Jeremy Usbourne, two completely different people living in a single flat. The series starts out with Mark obsessively lusting after his workmate, Sophie Chapman, and Jeremy wanting to bed his neighbor, Toni. Some of the bizarre situations the pair work themselves into are mind blowing. It almost makes you believe this could actually happen. Moments that spring to mind are Mark trying to hide from his wedding…. at his wedding, in the stands of the Church, along with Jeremy, who urinates in his suit and Mark claiming he is dying because he has no idea what to do in his presentation. The story also shows very realistically how what you say differs from what you are thinking. It truly is an interesting and entertaining program. Six series have been made and a seventh is to air in the UK shortly.Having won BAFTA awards and "Best TV comedy actor" award for Dave Mitchell, who plays Mark. This has become a cult hit in the UK.
http://www.youtube.com/watch?v=a4cmrMJul1g
A program with very little dialogue, yet full of physical humor. Rowan Atkinson is, in my opinion, one of England's greatest comedy actors. His facial expressions and outstanding body movements make for an entertaining watch. Mr. Bean puts himself into all kinds of crazy situations, all leading into hilarious aftermaths. A memorable moment of the series is when Bean goes to a school opening evening and attends a martial arts class. In fear of being dropped by the trainer he sneaks up behind him, pushes him over and wraps him up in one of the mats. It is absolutely brilliant and the comic timing is superb. There isn't much to say about this program other than it is a must watch for physical comedy fans.
7
Monty Python's Flying Circus
http://www.youtube.com/watch?v=IN9mP2_1A-c
Possibly one of the most influential television series of all time, spanning four hilarious films and the only sketch show on my list. I am not sure how but the series just works. It fits together perfectly, and each sketch seems like it could be taken and put into its own program. My personal favorite. Even today the ministry of silly walks has me rolling around on the floor crying with laughter. John Cleese, Graham Chapman, Terry Gilliam, Eric Idle, Terry Jones and Michael Palin are the brains behind each incredible sketch. The show is now a cult classic and the legacy of the Dead Parrot sketch is famed. In my opinion, this is one of the only programs to have me in stitches nearly every sketch. It really is fantastic.
http://www.youtube.com/watch?v=hcW-IrZe6aI
Probably the most known series on this list, and it is no surprise why. We follow the trotter boys, Derek and Rodney, in their attempts to make millions. While the series, in my opinion, lacks the laugh out loud moments that many other programs on this list have. It has the most beautiful and heart warming moments throughout television. The series also boasts having some words added to the English dictionary. But none of this compares to the performance of David Jason as Derek "Del Boy" Trotter. He really personifies the poor man wanting to be rich, and will do anything it takes to achieve his goal. The program is critically acclaimed and regularly won awards in Britain.
The Royle Family is one of the only programs in which nothing really happens. Yet, it is so interesting to watch these people do barely anything. The series follows the life of the Royle family; Jim the lazy, loud mouthed, scruffy father, Barbara the helpful, tired out mother, Denise the equally lazy daughter and Antony… Lurkio. There is also Nana, Barbara's mother who is always itching to move into Barbara's house. Denise is also engaged to Dave Best, a very slow but kind hearted man. For the life of me I cannot tell you why this program is so damn funny. Is it because it reflects life in quite a poor household? Or the amazing one liners from Ricky Tomlinson playing Jim Royle? You will have to find out for yourself. But for anyone who has seen the series I think they will agree that the revels scene is absolutely hilarious.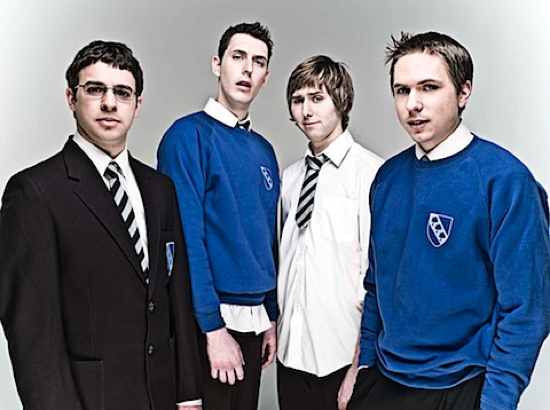 The perfect example of typical life in later teenage years. The Inbetweeners, revolves around the lives of Will Mckenzie, Simon Cooper, Jay Cartwright and Neil Sutherland. Will is a new kid at a local comprehensive, when his mother (Branded MILF by his new schoolmates) cannot afford the school fees. His first day starts off badly, after being told he has to wear a badge announcing to the world that he is a new student. Having insults thrown at him such as "Posh Twat", "Briefcase Wanker" and having a picture taken of him when he was using the bathroom, with a little caption at the bottom reading, "Hello I am Will, and I'm having a shit". Simon is a relatively attractive young man who lusts after Carly D'Amato ,his love interest since he was seven. Things start off badly for Simon after throwing up in her kitchen and on her little brother, after an alcohol fueled day. Simon eventually becomes more pathetic than the rest of the characters in certain attempts to win Carly's heart. Jay is the friend you wish you didn't have, and I am sure most people have that friend. They are always making crude jokes and lying about everything. Jay has claimed to have gotten "Balls deep" in many girls, and that some girls like it when you put the balls in. But the sad truth is Jay is a virgin, and this does not look like it will change. Neil is a dimwitted, yet quite attractive, man. He is always confused and tries to catch up with what has happened. But Neil is the most successful with the ladies out of the four. He "Fingered" a girl in the back of Simon's car, got a blowjob from the girl equivalent of the empire state building. He was happy when he had sex with a worker at Asda, and found out she wasn't pregnant, she just had chlamydia. Yes, this truly is one of the funniest programs I have ever seen.
Funny, witty, sophisticated and another spectacular Rowan Atkinson performance. Four series were created for this critically acclaimed show. I can admit I have never seen the first season so I will not be discussing that. BlackAdder II is set during the reign of Elizabeth the first when BlackAdder is Lord Edmund BlackAdder. The third series, BlackAdder III, is set during the 18th century, when BlackAdder is butler to the Prince of Wales and tends to his needs. He also comes up with some diabolical plans, which are nothing compared to Baldrick's cunning plans, though. This series consists of the funniest moment in comical history. The shooting of the squirrels. BlackAdder goes Forth is set in the trenches during WWI. Where captain BlackAdders goal is to survive the "Big Push", which is coming. The final scene of the series is also one of the most saddening and moving for a comedy series. The absolutely outstanding metaphors BlackAdder uses are incredibly funny, yet so ridiculous. I highly recommend watching these for their unbelievably quick witted comedy.
John Cleese strikes again but this time as Basil Fawlty, a hotel owner in Torquay. His wife Sybil, waitress Polly and waiter Manuel make for some of the most outrageous situations in comedy. John Cleese really does hit the nail on the head with this comedy. His dialogue is spot on and his superb comical timing is perfect. But, in my opinion, Andrew Sachs is the star of the show. Whenever he is on scene, he somehow steals it. His Spanish dancing, for example, is always a joy to watch. The series will, however, be remembered for the absolutely brilliant Goose stepping by John Cleese. The ministry of funny walks has heavily influenced this scene and it isn't surprising. Fawlty Towers is now the pinnacle of comedy in Britain. Many television programs take great influence from Basil Fawlty and the series physical humor. If this is number two though. Number one must be something special.
That's right, The Office is the greatest British comedy of all time. This mockumentry is held in high regard around the world, having remakes in the USA starring Steve Carrell. It is nothing compared to the original brilliance of Ricky Gervais and Steve Merchant. The series follows an office in Slough and its day to day routine. The star of the sitcom is David Brent, the general manager of the office. He is a snide, pompous and vain man. He thinks everyone likes him and respects him as a boss. But this is anything but the truth. Brent's workers are also very interesting and resolved throughout the series. Tim Canterbury is a happy, funny man who loves to play jokes on his co-worker. Gareth Keenan. Gareth is an unlike-able person in the office due to his odd and random comments. He is one of the only people who likes David Brent as a boss. Dawn Tinsley is a receptionist and in a relationship with a builder known as Lee. She is unaware of Tim's feelings for her and continues seeing Lee until the end of the second series. Ricky Gervais has won numerous awards for his work on the office and it is often voted the best comedy show. An innovative technique of making a truly funny and down to Earth comedy has really worked wonders for Gervais. He then went on to write and star in Extra's, which was funny but no way near as funny as The Office.