<![CDATA[
<![CDATA[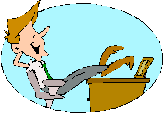 Te presentamos una selección de chistes y entretenidas historias y situaciones clasificadas en distintas categorías. Es una forma divertida de aprender y practicar (no solo el inglés formal, sino también 'argot', frases hechas y palabras empleadas en la calle, así como el 'doble sentido' de frases y expresiones en inglés). 

Puedes encontrar más chistes en inglés en nuestros Cuadernos de Inglés Gratuitos.
· La Mansión del Inglés proudly presents a selection of jokes arranged under the following topic categories:
TAMBIÉN TE PUEDE INTERESAR:

¿Quieres recibir en tu e-mail gratis y periódicamente ejercicios, programas gratuitos, explicaciones y otros recursos para mantener tu inglés sin esfuerzo? Apúntate a nuestro cuaderno quincenal de inglés.
La Mansión del Inglés. http://www.mansioningles.com
© Copyright La Mansión del Inglés C.B. — Todos los Derechos Reservados . —